SEVEN FEATHERS BIG GAME ROOM
Legendary Predators of the Northwest
presented by
Southern Oregon Head & Horns Competition
presented by
2018 Tour of Northwest Big Game
presented by
EVERYTHING YOU NEED FOR THE GREAT OUTDOORS!
Each show is jam-packed with 100s of exhibits, displays and attractions representing the breadth of the outdoor recreation industry: boating, camping, fishing, hunting, RVing, ATVing, cycling, kayaking, hiking, biking, climbing, travel agents, tour guides, guns, cabin life, outdoor clothing and gear, advocacy groups and governmental agencies, seminars and... lots of fun for the whole family!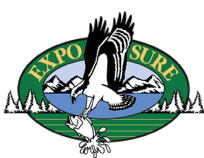 BB GUN RANGE
Test your skills and learn abuot gun safety from the pros!
GIANT FISH TANK
See LIVE fish in the 50' tank!
Speakers & Demonstrations, too!
FISH POND FOR KIDS
Catch your first fish and be hooked for life!
ARCHERY RANGE &
SHOOTING GALLERY





SPORTSMEN'S THEATER
Learn from the Pros! Listen to the experts and watch their demonstrations.