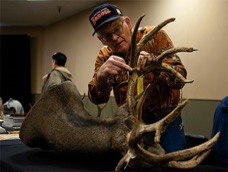 NORTHWEST
BIG GAME, INC.
David Morris
941 Colonial Road
Roseburg, OR 97471
541-530-2749
For details
Seven Feathers Grand Prize award will be provided according to the competition rules and will consist of:
• TWO NIGHT STAY for two at the Seven Feathers
Resort and Casino Hotel
• $150.00 Dining credit
• $200.00 River Rock spa credit
• Any additional amenities prescribed by Seven Feathers
SOUTHERN OREGON HEAD & HORNS COMPETITION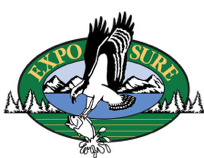 1. Measuring FREE with show admission. However, if the trophy is eligible for inclusion in the Record book, there is a $25 entry fee collectible at the time of competition.
2. The species eligible for the competition are: Black Bear, Cougar, Mountain Goat, Bighorn Sheep, Pronghorn, Blacktail Deer, Mule Deer, Whitetail Deer, Roosevelt's Elk, Rocky Mountain Elk and Shiras Moose.
3. Each entry that qualifies for the Record Book for Oregon, Washington, Idaho or Montana's Big Game Animals will receive a raffle ticket for the Grand Prize drawing.
4. 1st, 2nd and 3rd place prizes will be awarded for each species in each method of harvest (Rifle, Archery and Black Powder).
5. All entries must qualify under the Boone and Crockett Club's requirements and measuring system. Skulls must be intact and all entries harvested must have been taken under fair chase conditions.
6. All entries must be received by 8:00 p.m. on Saturday of each show.
7. All entries must stay in the Northwest Big Game Head & Horn display for the duration of the show to be eligible in the competition.
8. If your entry has been previously measured by official Boone & Crockett or Pope & Young measurers, you must bring a copy of the original score chart. Your entry will not be remeasured.
9. The Top Prize for each of the three Southern Oregon Sportsmen's Shows is a rifle-scope provided by Bushnell. It will be awarded to the entry with the highest percentage based on comparison with the record in its category.
10. Other prizes will include Bushnell range finders, rifle scopes, binoculars, knives, flashlights, Primos products & more.
11. The Grand Prize from Seven Feathers will be drawn from the participants of all three shows, at 4PM Sunday, February 24, 2019 at the Jackson County Expo.
Win the Seven Feathers Grand Prize Getaway!
Prizes awarded to the top 3 places in all categories.