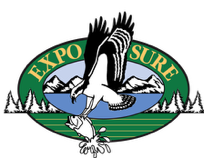 Catch a seminar from our expert speakers in the Sportsmen's Theater
and at the ODF&W's Giant Fish Tank in Oregon and in Phil's Bass Bin is California
Jody Smith
These are all comfort zones, and work places, for Jody Smith of Elkton.
Smith, a sixth generation Elkton resident, is a hunting and fishing guide. He began part-time guiding in 1984 while working in road construction and logging, but then went full time in the outdoors profession in 1992.
"It's actually a perfect job for somebody like me, for somebody who thinks about hunting and fishing all the time," Smith said.
"As a kid growing up, I was hunting one day, fishing the next," added the 1979 Elkton High School graduate. "I enjoy both and it's nice to be able to offer both to clients. If they want a cast and blast, we can go hunting in the early morning, fishing through the day and then have an evening hunt."
Smith, 57, will take a break from his outdoor ventures and share his knowledge at the upcoming ExpoSure sportsmen's and outdoor recreation shows in Eugene, Roseburg, Medford, Oregon and Anderson, California.
He'll be a featured speaker at the shows, discussing a variety of subjects involving hunting and fishing during two or three sessions per day on the giant fish tank and in the sportsmen's theater.
"Jody Smith is a quality featured speaker for our shows," said Joe Pate, producer of the Exposure shows. "He's well versed in the various hunting and fishing disciplines. He has the ability to make topics interesting and understandable to all levels of hunters and fishermen. He's the consummate outdoorsman, and on top of that, he's a genuinely fine person."
After his high school graduation, Smith worked in the woods on road construction and logging crews until deciding he could make a living at full time guiding.
The guide says in the 34 years since, he's had clients from practically every state and from as far away as Japan and Italy.
"You get to meet all kinds of people," he said. "A lot of guys save up to make one hunt, to try and get one elk. A couple guys have broken down into tears after getting an elk. That gives you a special feeling, helping them accomplish something they wanted."
Steve Waller of Oakland, a good friend who has shared several outdoors excursions with Smith, describes Smith as the "best of the best."
"Jody is a salt of the earth type of guy," Waller said. "You can trust him completely. He's truly dedicated to what he does."
Unlike some jobs that are repetitious, Smith said he likes the variety that guiding offers him. He said it is not unusual for him to turkey hunt a couple weeks in a row, hunt bear for the next three days and then get on the Umpqua River for a few days of smallmouth bass or Chinook fishing.
Smith said he doesn't hunt much anymore for himself.
"At this stage of my life, every animal a client gets that I helped get is special," he said. "I look forward to getting up early every morning and going out with them."
Smith said he can't guarantee people an animal or fish.
"I tell them I'll try my hardest for them … that's all I can say," he said.
"It's nice to be able to make a living working at your passion," he added. "I'm kind of blessed to be able to do what I enjoy the most in the world, and to make enough to afford a new fishing reel or a new rifle every once in a while."
Davey Jones
When Dave Jones was 7 years old, he hooked and landed a 25-pound Chinook salmon while fishing with his father on the Alsea River.
He was hooked on fishing from that experience on.
While his father was his mentor then, Jones has become the mentor and guide for hundreds of anglers since.
Jones, now 50, has worked in the outdoors industry for 32 years and has been the owner/operator of Davey Jones Fishing Locker & Guide Service for the past five years. The business is based in Eugene.
Jones has been sharing his fishing experiences through the years, both through his work and as a participant and speaker at the annual ExpoSure sportsmen's and outdoors recreation shows in Eugene, Roseburg and Medford. He coordinates the speakers and their topics for the giant fish tank and for the sportsmen's theater.
"Dave has been a part of the shows for many, many years," said Joe Pate, Exposure producer. "He is a valued part of the shows and of the fishing culture in Lane County."
Jones said he enjoys visiting with the anglers who visit the shows.
"Our biggest goal is to help people catch fish and have fun if it's taking them on a guided trip, putting on seminars or selling the correct gear to make them more successful," Jones said. "I don't mind sharing from my fishing experiences. To have somebody come back to me and tell me they tried something I suggested and then caught something is the coolest thing."
Jones has fished for kokanee for the past 25 years, but in recent years, he has made that fishery his specialty. He primarily fishes Odell Lake east of Oakridge where he is the full-time guide for Shelter Cove Resort. But he will also fish for kokanee at Green Peter Reservoir northeast of Sweet Home and at Triangle Lake that is west of Junction City.
"They are a very fun fish to catch," Jones said of kokanee. "They're challenging, they're plentiful and they are great to eat."
The guide added that kokanee are not hard to catch, but rather hard to figure out in order to catch. He explained factors such as weather and water temperatures, depth, bait color and trolling speed must all be figured out in order to catch the fish.
"With kokanee, one day you can catch a bunch and the next day it can be a zero," he said. "It's challenging like that."
During the upcoming ExpoSure shows, Jones will be a featured speaker, giving presentations on kokanee fishing, salmon fishing and mackinaw fishing. He'll give talks on these topics two or three times a day during each of the three-day shows.
MEDFORD SPORTSMEN'S & OUTDOOR RECREATION SHOW
ODF&W GIANT FISH TANK
FRIDAY, FEBRUARY 22
1:30pm Dave Jones, Kokanee Jig Fishing Tips & Tactics
2:30pm Jody Smith, Umpqua River Smallmouth Bas s Tactics
3:30pm Norma Evans, Umpqua River Pink Fin Perch Tips
4:30pm Clarence Cole, Lingcod Tips & Tactics
5:30pm Basin Tackle Rob, Surf Perch 101
SATURDAY, FEBRUARY 23
11:30am Dave Jones, Kokanee Jig Fishing Tips & Tactics
12:30pm Jody Smith, Umpqua River Smallmouth Bass Tactics
1:30pm Norma Evans, Umpqua River Pink Fin Perch Tips
2:30pm Chuck Closterman, Yarnie Fishing for Steelhead
3:30pm Basin Tackle Rob, Surf Perch 101
4:30pm Harold Hansen, Winter Steelhead Bank Fishing Techniques
SUNDAY, FEBRUARY 24
11:30am Dave Jones, Kokanee Jig Fishing Tip's & Tactics
12:30pm Clarence Cole, Tuna Fishing 101
1:30pm Andy Martin, Rockfish & Lingcod Techniques
2:30pm Basin Tackle Rob, Surf Perch 101
3:30pm Harold Hansen, Winter Steelhead Bank Fishing Techniques
MEDFORD SPORTSMEN'S & OUTDOOR RECREATION SHOW
SPORTSMEN'S THEATER
FRIDAY, FEBRUARY 22
1pm Norma Evans, Tidewater Salmon Fishing on the Umpqua River
2pm Gensorek & Cole, Long Leader 40-Fathom Fishing for Bottom Fish
3pm Dan Kloer, Learning Elk Language as the Rut Changes
4pm Bruce Hoskisson, Do-It-Yourself Alaska River Running
5pm Jody Smith, Fall Salmon Fishing "360 Style" on the Umpqua
6pm Dave Jones, Odell Lake Mackinaw Fishing 101
7pm Derek Leblanc, Kids Firearm Safety 1
SATURDAY, FEBRUARY 23
11am Norma Evans, Pink Fin Perch Fishing on the Umpqua
12pm Bruce Hoskisson, Do-It-Yourself Alaska River Running
1pm Gensorek & Cole, Long Leader 40-Fathom Fishing for Bottom Fish
2pm Dan Kloer, Learning Elk Language as the Rut Changes
3pm Dave Jones, DJ's Kokanee Jigging & Trolling Tips & Tactics
4pm Jody Smith, Fall Salmon Fishing "360 Style" on the Umpqua
5pm Clarence Cole, Tuna Tactics for the Beginner
6pm Derek Leblanc, Kids Firearm Safety 1
SUNDAY, FEBRUARY 24
11am Andy Martin, Plug Fishing for Salmon & Steelhead
12pm Basin Tackle, Rob Clamming without a Shovel
1pm Jody Smith, Umpqua River Smallmouth Bass Tactics
2pm Norma Evans,Tidewater Salmon Fishing on the Umpqua River
3pm Dave Jones, DJ's Kokanee Jigging & Trolling Tips & Tactics