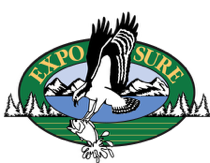 Register for Combat Hero Motorcyle and
All Terrain Wheelchair Giveaways
With a custom-built motorcycle and a customized wheelchair on display at the Combat Hero booth at the upcoming ExpoSure sportsmen's and outdoors shows, it'll be wheels down for military veterans.
The motorcycle was built by Combat Hero, a nonprofit organization, that finances the building of five or six bikes a year for disabled veterans. The bike on display was built for and donated to a Marine veteran who lives in Beaverton.
The wheelchair was formerly used by a Marine veteran who lived in Grants Pass. That soldier died and his wife requested that the wheelchair be put to use through a donation to another veteran. The original cost of the chair was $22,000 when given by Veterans Affairs to the Marine.
"The wheelchair is top of the line," said John Barker, a coordinator for Combat Hero. "It has a lift to raise the seat.
"The lady was in tears when she gave it to me," he added. "I guaranteed her it would go to a veteran."
The wheelchair needed two new batteries and Joe Pate, owner and producer of the ExpoSure shows, covered that expense.
"Joe is a patriotic American who has got a big heart," Barker said. "He wants to do the right thing for that lady and for the wheelchair."
The Paralyzed Veterans of America organization will have a presence at the Combat Hero booth. Between the two groups, they will be accepting nominations for veterans in need of a wheelchair and for funds to build more motorcycles for veterans.